Free Egyptian Dating Website - Chat and mariage Egypt free
What should I do if someone bothers me?
If a member bothers you by writing unwanted messages to you, do not hesitate to block him from his profile page using the small menu titled [report this profile], and report it immediately.
How can I delete my account?
You can deactivate your account or delete all of your information at any time. Use the menu: [My profile], then [My settings] and finally [My account].
Why my account is not accepted?
This website does not accept all new profiles, our administrators refuse profiles with incorrect, false, sexual, disrespectful information. A member cannot make other people believe what he is not, nor can he appropriate the identity of another person. In addition, the administration has the right to refuse a profile for a simple doubt about the identity of the person.
Why has my account been banned?
It's sad to know that your account is banned but it is probably because you did not respect our rules and conditions of use of the site. Please note that this site is followed by professionals concerned with keeping it clean and enforcing the terms of use. For more information, you can contact the administration via technical support.
How to change my password?
Use the menu: [My profile], then [My settings], save your information with the green button. Please note that each change must be saved independently.
How can I update my information?
In the menu select [My Profile] then [Check my profile].
How to install the application on your PC and your Smartphone from the browser?
To make your life easier, you can install the app on your PC and smartphone using the web browser.
For best results, we recommend using Chrome.
Then search for the "Add to Home Screen" button from your mobile browser.
Use the Chrome browser icon on the right in the "Install App" navigation bar.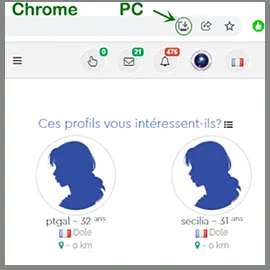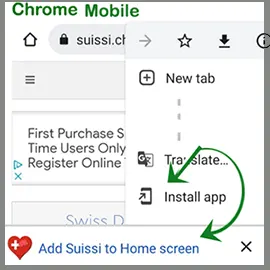 How to add friends?
It is necessary to have a list of friends in order to be able to get in touch easily and not have to search for them every time:
\r\nTo add a member as a friend, go to their profile and press the [add friend] button. Then wait for him to accept you. Please note: You can add a limited number of friends. If you reach this number, you will have to delete some to add new ones.
This site does not accept polygamy
We respect your habits, but we have ours and if you decide to join our services you must respect them, if you are here to find a second woman your account will be rejected, we then ask you to go to another site accepting polygamy.
Are you receiving messages from certain unwanted profiles?
You have the option of making your choice and having it respected. Use the menu: [My profile], then [My settings], then "Selection criteria", you can then choose the countries from which you wish to receive messages and visits, you also have a large list of choices: choose desired ages, choose to be contacted only by men, or only by women, choose to be contacted only by people with a photo, or only by users with the highest trust score, etc.
How can I prevent someone from seeing my profile?
When you block an account, it will no longer be able to write to you and will no longer be able to see your profile. You can do this at any time from the user's profile page. Use the menu dedicated to the profile (towards the photo). Click on "Block this profile".